Restaurant Review: Bistro Joe's a gourmet dining destination in Birmingham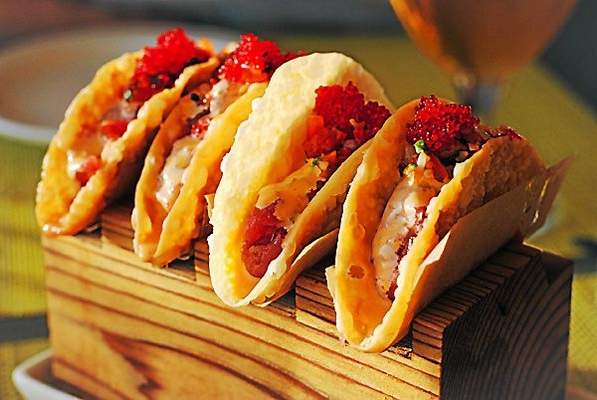 Many people wouldn't consider choosing their local supermarket for an elegant dinner out, but those people probably don't live in the neighborhood of Bistro Joe's.
Bistro Joe's is just upstairs from Papa Joe's Gourmet Market in Birmingham. Although most seats in the restaurant overlook the bustling market downstairs — as well as Woodward Avenue — the intimate space feels a world away.
The vibe is casual yet upscale, with concrete floors, lots of exposed lighting, and a yellow-and-black color scheme that echoes the market below. The majority of the seating is in a mezzaninelike narrow space that seems like an outdoor porch but is actually fully enclosed and temperature-controlled — although the seats nearest the window can be a bit chilly.
The menu is globally influenced and inspired by fresh, sustainable ingredients that are, of course, sourced from the market downstairs. The menu is seasonal and will change every few months, so the food mentioned here may not be available for very long. We hope the quality of the food and creative menu planning will be a constant, though.
FYI: Bistro Joe's, at 34244 Woodward Ave., Birmingham, inside Papa Joe's Gourmet Market in Birmingham, is open for lunch 11:30 a.m. to 3 p.m. Monday through Friday. It is open for dinner 5:30 p.m. to 10 p.m. Monday thorough Wednesday, 5:30 p.m. to 11 p.m. Thursday through Saturday, and 5:30 p.m. to 9 p.m. Sunday. For more information, call 248-594-0984 or visit www.bistrojoeskitchen.com.
The menu offers more than a dozen "Snacks" (appetizers), served family style. There's also a daily charcuterie and cheese selection, as well as oysters and chilled seafood trays. There's a "Market Fare" list of salads and soups.
For entrees, the "Wood Burning Oven" offers sandwiches, flatbreads, and chicken and seafood. "Larger Fare" includes more seafood, pasta and fancy sliders, and the "Butcher's Block" lists steaks and chops.
One of the standouts on the appetizer list is the Spicy Tuna "Tacushi" – a combination of a spicy tuna sushi roll and a taco. Finely chopped raw ahi tuna is combined with a spicy, creamy sauce and stuffed into crunchy wonton taco shells. The tacos are topped with a cilantro salad and fish roe. The four tacos to an order are served on a carved wood block made especially to present these little bites. All of the flavors of a spicy tuna roll are here, but made even more inviting by the crunchy wonton shell. Make sure you get a few orders, so everybody at the table can have a couple of mini tacos.
It's hard to choose just one salad from the inventive list of selections, but the kale-barley option is a great choice. It includes a generous amount of tasty mix-ins — dried cranberries, aged Gouda, pistachios and toasted oats — and is tossed with a perfect amount of citrus vinaigrette. It's definitely a filling vegetarian entrée option, or can be split as a starter course.
The Blue Moon Mussels are a can't miss for bi-valve lovers. The mussels themselves are fresh, briny and perfectly cooked, but the tomato broth they are swimming in is memorable. It is a mixture of sweet tomatoes, garlic, slightly spicy chorizo, chile, and bacon. Luckily, the dish comes with grilled ciabatta bread for dunking and scraping up every last bit of sauce.
On this visit, one of the nightly specials was an excellent black sea bass entree. While it's unusual to see fish paired with pasta, it really worked here. The seared bass was served on top of trofie pasta (twisted, handmade noodles). The noodles were tossed with shaved garlic, asparagus, capers, crispy bits of pancetta and a white wine and garlic sauce. For another layer of flavor, the fish was garnished with a tomato and pickle relish. If that sounds like a lot of flavors for one plate, it was. Somehow, everything came together in a cohesive fashion that pleased the palate.
Service is warm, helpful and reliable. Guests' needs are anticipated and immediately addressed. The servers are very knowledgeable of the ever-changing menu and nightly specials.
Bistro Joe's is the opposite of what you would expect a meal from a grocery store to be. The expertly prepared food makes it a dining destination for special occasions and casual outings alike.
Lori Yates is a Ferndale-based food writer and recipe developer/tester. Read more at www.foxeslovelemons.com.