First look: Bistro Joe's in Birmingham offers eclectic, globally inspired menu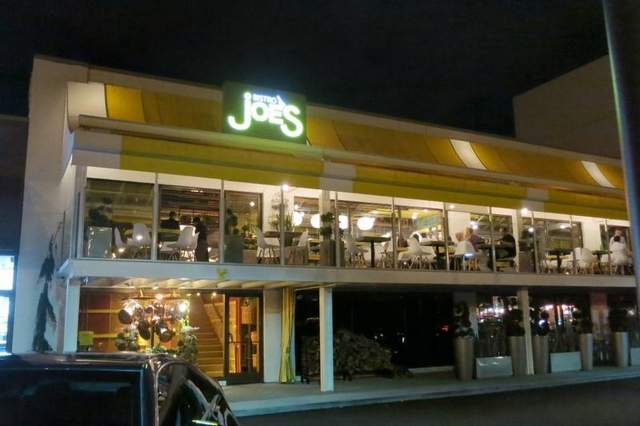 The long-awaited new Bistro Joe's restaurant atop Papa Joe's Gourmet Market in Birmingham has opened with an eclectic, globally inspired menu ranging from artful small plates to French bistro classics and wood-roasted meats and fish.
The concept and menu were created by chef Jacques Van Staden, former vice president of food and beverage for Celebrity Cruises and a partner in the restaurant with Papa Joe's owners, brothersTony and Joe Curtis along with Tony's sons, Anthony and Jeffrey. Before joining the cruise line, Van Staden was corporate chef for the Michelin-starred Alizé restaurant in Las Vegas.
Designed by architect Ron Rea, Bistro Joe's occupies a newly created second-floor mezzanine that looks down into the market and extends into a large glass-walled dining area on the front of Papa Joe's building, overlooking Woodward Avenue.
The restaurant opened quietly for dinner June 24 and began lunch Monday, so it's too soon for conclusive judgments. But the restaurant's interesting menu, bold flavors and handsome presentations make a great first impression.
The menu's starters, labeled snacks, range from bacon-wrapped dates ($7) to steak tartar with grilled sourdough ($13). Entrée salads, priced in the low teens, include the Spinach Bleu, with Gorgonzola, toasted walnuts and crispy pork belly; and a Nicoise with grilled ahi tuna.
Featured from the wood-burning oven are the aromatic, generously filled roasted lamb sandwich, dressed with garlic-yogurt sauce, sumac, cucumber and mint salad ($16), as well as several flatbreads, including two pides (pronounced PEE-dehs), or boat-shaped, filled flatbreads also known as Turkish pizzas.
Two dishes that especially stood out on my first-week visits were Van Staden's contemporary — and ethereal — version of coq au vin ($22), and his mesquite planked salmon ($26) with fingerlings and fresh green pea ragout. It's made by slashing the salmon filet and inserting lemon confit and sliced smoked salmon into the cuts before cooking the fish.
The coq au vin, served in a covered pot, includes braised legs and baked prosciutto-wrapped breasts stuffed with a blend of foie gras mousse, mushrooms and chicken liver. It's offered only Mondays, when it is the regularly scheduled dish du jour.
Other features at the restaurant include a raw bar with four to six kinds of fresh oysters daily and other seafood. Saturday and Sunday brunch will begin later this summer. And soon, says market owner Tony Curtis, guests will be able to order more wines than those on the bistro's list. The entire Papa Joe's Market wine inventory will be put on iPads, so bistro customers can order any bottle of wine in the house at retail, plus a $15 service fee.
Van Staden, whose Troy-based consulting business is called JVS Culinary Group, left his Celebrity Cruises job last year and came to Michigan because his wife is from the area and wanted to return.
A complete Free Press review of Bistro Joe's will appear in a few weeks.
Current hours: lunch, 11 a.m.-3 p.m. Monday-Friday; dinner, 5:30-10 p.m. Monday-Thursday, 5:30-11 p.m. Friday-Saturday, 5:30-9 p.m. Sunday. Bar remains open between lunch and dinner. (34244 Woodward; 248-594-0984; the website is not yet active)
Contact Sylvia Rector: 313-222-5026 and srector@freepress.com Follow her on Twitter @SylviaRector.